The exposition "Antiquaires et Galeristes"
The campaign "Coup de Coeur" is a gift for the Heart of Women…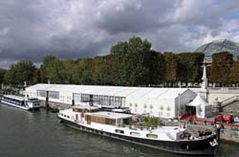 The 7th edition of the exposition "Antiquaires et Galeristes", was one of the paramount events of the cultural reopening 2012. It was held just two steps away from the Grand Palais, in the surroundings of the splendorous "Pont Alexandre III", from 13th to 23rd September 2012.
United in their desire to expose their latest discoveries, the exhibitors presented a variety of exceptional works of art from a different epoch. Diversity was the major note of this exhibition, with only one aim: to astonish and to set new tendencies for the market of art.
Art means magnificence, therefore the antique-dealers and art-galleries wanted to choose a work "Coup de Coeur" of which 10% of the selling price was sent to the Cardiovascular Research Foundation of the Institut de France.
---
Next news →