Télématin is honouring the heart of women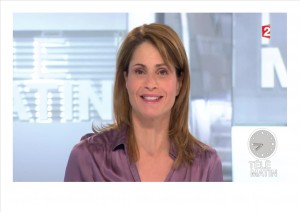 On December 31st, 2014, Christelle Ballestero, in charge of the health column of the television programme Télématin, has devoted a feature story on the scientific council of the Cardio-Vascular Research Foundation-Institut de France, recalling that it was the first scientific council, focused on the research programmes on cardio-vascular diseases of women. Initiated by Christine Ballestero, this emission was entitled «The heart of women can fail too ». providing for us a beautiful TV-audience for our engagement. She has revoked the omission within the world of research, where its work is based on the masculine model, whereas the heart-cells of women are different from men's ones.
In the Hôpital Georges Pompidou Christine Ballestero had met for this occasion Professor Jean-Noël Fabiani, member of our Scientific Council and Head of the Service for Cardio-Vascular Surgery, who reiterated the difference of symptoms of cardio-vascular diseases of women, and the necessity of setting up better prevention programmes and adapted treatments for them.
We are thanking very much the team for health of Télématin for supporting our engagement, because much has still to be done, that finally the heart of women would be taken into account in all its singularity.
To view a replay of this clip, click on the following link of Télématin : http://www.france2.fr/emissions/telematin/sante/le-coeur-des-femmes_290801
---
← Previous news
Next news →