Danièle Hermann prize awarded to a special woman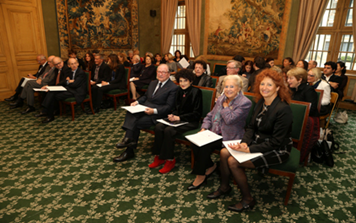 The "Prix Danièle Hermann" had been awarded for the first time to a woman on 17th October 2012 and has become since so important, that it cannot be neglected. Professor Catherine LLORENS-CORTES, prize-winner for her medical and clinical work, which allows a better treatment of high blood pressure and of cardiac insufficiency.
Catherine LLORENS-CORTES CORTES is professor for neurobiology, Director of INSERM 691 at the Collège de France for "Central neuropeptides, hydrogenical and cardiovascular regulations" since 2005.
This prize, created in order to enhance research, awarded according to a previously defined theme by a jury of the Académie des Sciences, composed of representative personalities of the scientific community. The selection for the prize winner was taken by checking the received documents for candidature. In 2012, the Cardiovascular Research Foundation-Institut de France, wanted to give more importance to nutrition and to heart or coronary diseases.
---
← Previous news
Next news →