Colloquy « Nutrition and heart »
On Wednesday, 10th of April 2013 the colloquy « Nutrition and heart ». took place at the Palais of the Institut de France. This was an occasion to come together for our common commitment : « A healthy dish for a healthy heart », with star-cooks, researchers, and professors of renown.
This colloquy would not have been possible to organize without the help of Danièle Hermann, President-Founder of the Cardiovascular Research Foundation of the Institut de France. She is an indefatigable in her fight for an equilibrated nutrition to maintain a healthy heart.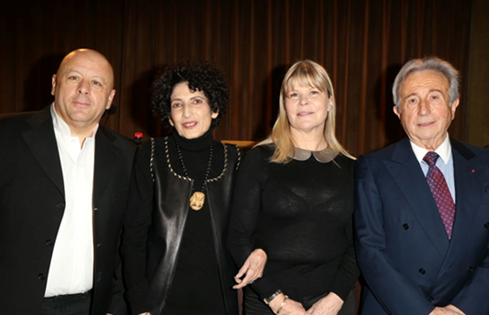 Thierry Marx, Danièle Hermann, Ghislaine Arabian, Michel Guérard
The discussion started in the lecture room, with an attentive audience and the words of welcome by Monsieur Gabriel de Broglie,chancellor of the Institut de France, who was referring to Hippocrate: "Your healthy way of nutrition should be your only medicine". Professeur Jean-François Bach, standing secretary of the Academy of Science, followed this guideline, referring also to nutrition, which is often neglected in hospitals. Then followed the testimony of Danièle Hermann, so full of emotion, that the audience was fascinated.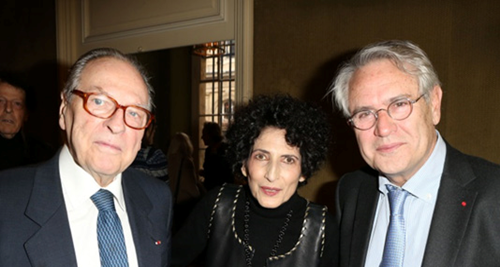 Gabriel de Broglie, Danièle Hermann, Professeur Jean-Noël Fabiani
The following speakers were distinguished personalities from the world of health, research and from the gastronomy.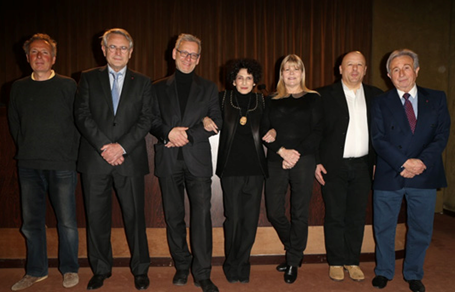 Pierre Méneton, Professeur Jean-Noël Fabiani, Professeur Eric Bruckert, Danièle Hermann, Ghislaine Arabian, Thierry Marx, Michel Guérard
Professor Jean-Noël Fabiani – – head physician and cadiovascular surgeon of the Georges Pompidou Hospital – at his ease in the role of orator, is convicted that the benefits of a Mediterranean diet and a glass of red wine per day. He evoked the devastating effects of an excessive salt consumption, and moreover, of bad cholesterol, which is a real bomb to our arteries. Cholesterol has to be treated globally, including measures for a diet, appropriate to medical treatment. Professor Jean-Noël Fabiani is also the author of the book « Cooking for your arteries » edited by Albin Michel.
Professor Bruckert,, specialist for metabolic diseases and nutrition at the Pitié Salpêtrière hospital, spoke of the difficulty to balance the effects of a single nutriment. "There is no miraculous nutriment, nor a poisonous one. Important is the quantity and the habit of alimentation". Necessary is a holistic view to be able to keep your ideal weight and to protect your heart.
Pierre Méneton, researcher at INSERM, expert for alimentary habits through all the centuries, started with the mystic hunter-collector, whom our consumer society has forgotten, and so leaving behind real good alimentary habits.
The much awaited comments of the star-cooks followed, starting with Thierry Marx a humanist with a solid sense of humour.
Mrs Ghislaine Arabian, chef of the restaurant « Les petites sorcières » was much admired by the public. She first spoke of all of the importance of eating well. You have to respect certain rules, which she calls sanitary ones,: "Take your meal quietly, take your time, and do this with pleasure and in good humour".
Thierry Marx, professional, charismatic and very human, praised by the press, chef of the « Mandarin Oriental », was full of passion for the Japanese art of cooking. He put the focus on the so-called holistic alimentation, which means to have an overall view on the human being. Well-being, health, and alimentation have to become one. This is an ambitious project, which he develops also at the Faculté d'Orsay, surrounded by important scientists.
Michel Guérard, frequently starred chef of Les Prés d'Eugénie, ", which will open in September of 2013, is a forerunner for healthy cooking. He explained excellently that a cassoulet, a vinaigrette, or a Paris-Brest, high caloric French specialties, could be light, if cooked with other ingredients.
The followed questions and answers from the public. This was the possibility for star-cooks to give some advice on how to make our plates lighter with a bit of creativity in a nothing of time. Thierry Marx agreed completely and said that eating well is not a question of time: "You need 20 minutes to prepare a good meal".
This colloquy, under the sign of good humour with highly competent participants, had only one mission: to preserve our heart. The participants took up the idea of Danièle Hermann unanimously : that schools have to have the possibility to teach nutrition, because it is as important as the other subjects in school.
Naturally, such an event couldn't close otherwise than with a lunch-buffet, light for sure. We have to thank Thierry Marx, creator of the buffet, for this moment, and his a tasty end to the competent colloquy, full of good advices.
---
← Previous news
Next news →