CANADA AT THE HEART OF EFFORTS TO COMBAT CARDIOVASCULAR ILLNESSES
Although the Ministry of Health constantly promotes the benefits of a healthy lifestyle and physical exercise in the fight against poor cardiovascular health, it has become clear that many patients suffering from heart conditions lack the support networks which are so useful in helping individuals to implement positive lifestyle changes. With the exception of hospital and convalescent home environments, patients do not have access to the kind of support networks they need in order to encourage them and guide them through these changes, which are so important following any kind of cardiovascular event or illness.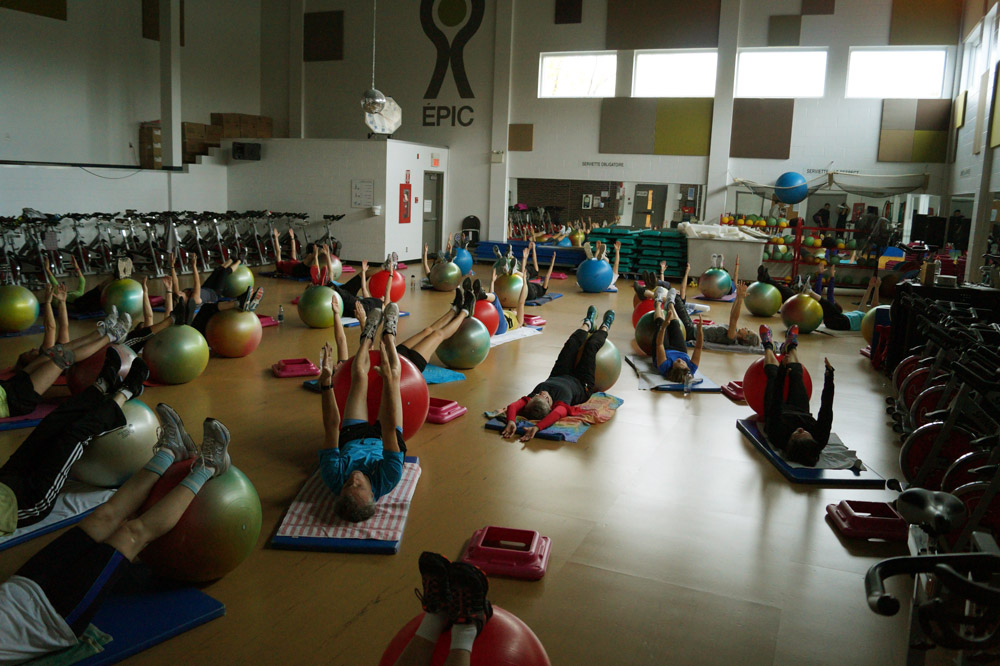 Such a lack of appropriate facilities and networks does not apply to all countries. Canada has a reputation for being at the forefront of new ways of doing things and this nation has been ahead of the field in this area since the 1970s. As a result, it can proudly claim to be a pioneer in strategies for the prevention of cardiovascular diseases thanks to the  Centre Epic de Montréal (Centre for preventive medicine and the promotion of physical exercise, part of the Montreal Heart Institute) headed up by Docteur Martin Juneau, a cardiologist who was one of the first to appreciate the beneficial effects of physical activity for older people with a history of heart disease.
First launched in 1974 in a basement room, the brainchild of a patient with a keen business mind, the Centre Epic has spawned many imitators since then. It now occupies a 6000m² site and it is hoped it will expand further. It comprises a huge gymnasium, numerous fitness rooms and exercise machines, a swimming pool, a running track with several lanes reserved for runners of different levels of fitness from hardened athlete to novice, All this takes place under the watchful eye of nurses, doctors and nutritionists,This remarkable place has a staff of more than 100 people, all devoted to the prevention of cardiovascular illness. Employees' principal goal is to help subscribers become more physically activeafter they have taken a cardiac stress test. On the basis of this test, they will be given a program of physical activity to undertake. Users of this service are of differing ages and backgrounds,  with an average age of 68 and the typical patient being an individual who has already suffered a heart attack or stroke and wishes to avoid having another one.  Being located in a country with notoriously poor eating habits, the centre also seeks to help certain patients lose excess weight with the diet of fresh fruit and vegetables available from its Mediterranean-style food bar. This also provides an opportunity for meeting people, thus breaking out of the isolation that cardiovascular illness can bring with it.
This amazing place doesn't come for free. There is a 410 euro annual subscription fee. This fee could be lowered if the Canadian government were to provide funding for this innovative concept, which up to now has been supported by the private sector. In France the concept of a sports facility focused on health promotion hasn't yet taken off, although some companies such as Monstade Gym (www.monstade.com) in Paris have been so successful that its fitness coaching programs are being looked at closely by the French regional  authorities  and promoted by public healthcare bodies.
We very much hope this preventive approach to cardiac health will really take off in France in the coming years.
---
← Previous news
Next news →